How Much Does it Cost to Hire a Gym Cleaning Service: Everything Owners Need To Know About Fitness Center Cleaning
Quick Summary: Gym Cleaning Service Prices
Hiring a commercial cleaning company to clean your gym will cost between $25 and $75 per hour with $60/hour being the average rate. One man hour per 1,000 feet of space is the average time it will take to effectively clean and disinfect a gym. If paying by the square foot, expect to be charged between $0.05 and $0.20 per square foot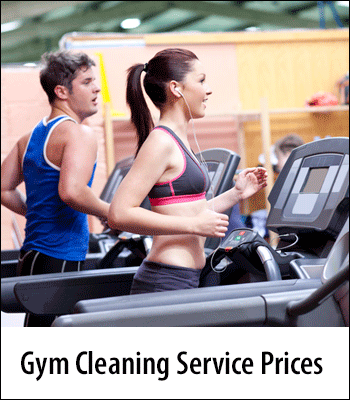 Let's face it; sweaty bodies stink. What's more, they help create breeding grounds for bacteria and other germs. Patrons moving from machine to machine and from locker room to workout room, carry not only germs from the gym, but bacteria from outside, as well.
The cleanliness of your fitness facility goes a long way toward making your clientele feel safe and valued. It also serves as an advertisement when signing on new members. People walking into a dark gym that smells of old sweat and body odor, and that shows signs of needing a good cleaning, are far less likely to sign on the dotted line.
Table of Contents
What Do Your Clients Expect?
Though hygiene is important, especially in a gym, clients look for a clean environment for other reasons. For one thing, they say it makes them feel safer, and more confident in both your brand and your employees. It also makes them feel valued as customers. That feeling keeps them coming back to your facility. What's more, they recommend it to their friends.
What do you need to do to engender that goodwill? It doesn't take too much, actually, for your customers to feel your facility is a clean one. You need good lighting, a clean scent, and well-kept restrooms and locker rooms.
What Bacteria Lurk in Your Gym?
Of course, cleanliness is more than the gym looking good. Damp, humid conditions create an ideal breeding ground for lots of nasty things. Your customers come to you to improve their health, not ruin it. Not to mention your staff; a clean facility cuts down on sick days.
A poorly maintained fitness center leads to a wide variety of illnesses and health issues, from the relatively mild case of athlete's foot, MRSA to outbreaks of flu. Of course, don't brush off those athlete's foot cases. The fungus causing that, called dermatophyte, causes a wide variety of fungal infections, and transfers from person to person easily, through any contact with bodily fluid.
Gym Cleaning Service Cost Examples
A small yoga studio in Oregon hired a daily cleaning service for $240 per month. This covers daily vacuuming, mopping, sanitizing equipment, and bathroom cleaning.
A CrossFit gym in Texas pays $750 per month for nightly cleaning. This includes equipment and floor sanitizing, trash removal, and supply restocking for their 4000 sq ft facility.
A LA Fitness in California has a contract for $2000 per month for nightly cleaning of their 25,000 sq ft gym, including all exercise areas, locker rooms, and bathrooms.
A university recreation center in Colorado pays $3000 per month for daily cleaning of their 45,000 sq ft facility including the courts, pool, weight rooms, lobby, and offices.
A high-end equinox gym in New York pays $6000 per month for nightly cleaning of their luxury 60,000 sq ft gym, including laundry service, sauna cleaning, and extra staff.
A small climbing gym in Utah hired a service for $400 per month for cleaning 3 days a week, covering 1800 sq ft of workout and climbing areas.
The examples show cleaning costs vary widely based on gym size, services required, and frequency of cleaning. Most fall in the range of $0.08 - $0.15 per square foot monthly.
Video: How to Clean Fitness Equipment - What to Use & How to Do It Right
Watch the video below to get some great tips on how to clean your gym fitness equipment.
The Benefits of Outsourcing Your Cleaning Duties
Professional cleaners are just that: professional. They have the training and expertise to keep your gym looking great. You can even find companies that specialize in fitness centers, and therefore have the experience to keep yours safe, healthy, and clean.
When deciding whether the cost is worth it, consider the full cost of assigning these duties to staff. First, look at the salary and benefits paid to your staff. Next, consider the cost of cleaning supplies and equipment, as well as replenishing these supplies.
Also, recognize the varying levels of efficiency between a professional cleaning crew and your staff. The professional-level equipment, cleansers, and tools a commercial company provides are a big part of what makes them so efficient and effective. The other part is that, simply put, this is their job. They aren't trainers taking their turn with a mop, they're full-time custodial workers.
Finally, consider the flexibility in scheduling a professional team to work either during non-peak hours, or after business hours if yours is not a 24-hour facility. This way, your members get a clean facility without the interruptions and inconvenience of a cleaning crew.
You may choose to combine professional cleaning company, which would handle the more intense cleaning needs of your facility, with your in-house team performing light duties, such as wiping down machines and similar low-level cleaning tasks.
The Average Costs of a Gym Cleaning Service
Many variables go into determining the cost of a cleaning service, so offering an accurate "you can expect to pay X" statement isn't possible. Pricing varies based on building size, geographical location, and your individual cleaning needs. However, there are common ranges and billing methods.
Most commercial cleaners charge by the hour or by the square foot. If the cleaner charges hourly, expect to pay between $25 and $60 per hour. If the company charges by the square foot, expect to pay between $0.05 and $0.20 per square foot. Deeper cleaning, such as carpets and rugs, windows, and floor waxing, typically costs more.
The company will likely ask you to sign at least a 12-month contract. Do not sign anything unless it includes a cancelation clause. This protects you in the event you are unhappy with the company's services.
Why It's Important To Keep Your Gym Clean
Health and Safety: A clean gym reduces the risk of germs, bacteria, and viruses spreading among gym-goers. Regular cleaning helps minimize the chances of infections and illnesses, creating a healthier environment for everyone.
Member Satisfaction: A clean and well-maintained gym enhances the overall experience for your members. A clean facility reflects your commitment to their well-being and comfort, leading to higher member satisfaction and retention rates.
Professional Image: A clean gym portrays a professional image to both current and potential members. It shows that you care about your facility and take pride in providing a top-notch experience.
Reduced Liability: Regular cleaning and maintenance help prevent accidents and injuries. Proper cleaning of equipment and surfaces reduces the risk of slips, falls, and other accidents that could result in liability issues for the gym.
Equipment Longevity: Regular cleaning and maintenance of gym equipment help prolong their lifespan. Dust, dirt, and sweat can accumulate and damage machines over time, leading to costly repairs or replacements.
Odor Control: Gyms can develop unpleasant odors due to sweat, moisture, and bacteria. Regular cleaning helps control these odors, creating a more pleasant workout environment.
Compliance: Health and safety regulations often require fitness facilities to maintain a certain level of cleanliness and hygiene. Keeping your gym clean ensures compliance with these regulations and avoids potential legal issues.
Positive Reputation: A clean gym is more likely to receive positive reviews and word-of-mouth recommendations from satisfied members. This positive reputation can attract new members and contribute to the gym's growth.
Productivity: A clean and organized gym allows staff to work more efficiently. They can spend less time searching for equipment or cleaning up, and more time assisting members.
Preventing Allergies: Regular cleaning reduces the buildup of dust and allergens that can trigger allergies and respiratory issues among gym-goers.
Author: Ashley Smith
Request a Free Quote
To receive an accurate estimate, know the following:
The square footage of the area you want cleaned
How much traffic your facility gets
How often you want it cleaned
The age and condition of the building
Any special cleaning requests
If you are interested in learning more, request a free quote today.
Get Bids From Fitness Center Cleaners
Use our free request for quote tool and get price quotes from multiple gym cleaners in your area. There are no obligations to hire and we won't ask for your credit card information.