Cost to Maintain Your Business Floors with a Floor Cleaning Service
High-traffic areas are prone to dirt, dust and grime. And over time, they will start to show signs of wear and tear. All of this makes your office space look unsightly and less than professional to clients and customers.
A professional floor cleaning service can keep your floors in like-new condition, removing day-to-day buildup of dirt and the scratches and scuffs that accumulate over time. Professional services handle all types of floors in all types of businesses, from major corporations to tiny retail shops.
About Business Floor Cleaning Services
There are two basic options when choosing a floor cleaning service. You can hire a commercial cleaning company that also offers specialized floor care service. Or, you can hire a company that focuses solely on floor care. One is not necessarily better than the other, as long as the company you choose is experienced and reputable.
Floor cleaning services deal with all types of flooring, including vinyl, hardwood, marble, ceramic tile, carpeting, cement and slate. Services include carpet cleaning, hardwood refinishing, high-speed polishing, stripping, waxing and re-grouting. Most services also have expertise in removing scratches from surfaces such as marble or stone using industrial-grade machines.
In some cases, floor cleaning services will require you to sign a contract for regular service before they will agree to do a job. Depending on your needs, the service can be daily, weekly, monthly, quarterly or twice annually. If you're simply looking for a one-time job, you might have to spend some additional time shopping around.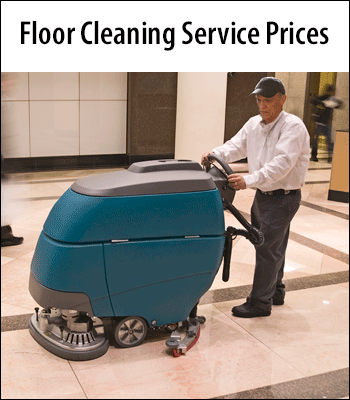 Cost of Business Floor Cleaning Services
The cost of business floor cleaning depends on many factors, including the size of your facility, the type of flooring, the condition of the flooring, where your business is located and the hours of operation. Even factors like the weather can influence price. If you live in a cold climate where snow and salt are constantly being tracked into the building, plan on spending extra.
Floor cleaning services either charge by the hour or by the square foot. Below are some examples of prices by the square foot for common floor cleaning services:
Carpet cleaning - $.10 to $.25 per square foot
Carpet spot cleaning/stain removal - $20 to $40 per hour
Stripping and waxing floors - $.20 to $.40 per square foot
Machine cleaning ceramic tile - $.10 to $.25 per square foot
Buffing - $.05 to $.08 per square foot
Author: Ashley Smith
Get Bids From Business Floor Cleaners
Use our free request for quote tool and get price quotes from multiple floor cleaners in your area. There are no obligations to hire and we won't ask for your credit card information.