Commercial Bathroom Cleaning Prices: Cost Guide and Hiring Tips
Summary: Commercial Bathroom Cleaning Prices:
Commercial and office bathroom cleaning costs anywhere from $200 to $1000 per month for the average-size business, depending on how many restrooms you have, their size and condition and the frequency of cleaning. Hourly rates average around $50 to $60 per hour, while others charge by the visit or the fixture.
Table of Contents
Almost nowhere is cleanliness more important than in the bathroom. Dirty restrooms are not just gross; they're a breeding ground for germs and disease.
Hiring an office cleaning and sanitation service means your employees don't have to do the dirty work, of course. More importantly, if you hire the right service, it means the bathroom will not only look clean; it will be sanitary.
The Importance of Keeping Your Office Bathrooms Spotless
A dirty restroom is off-putting to customers, clients and employees. Even seemingly minor things like a few pieces of toilet paper scattered on the floor or an overflowing garbage bin can signify that your restrooms are not properly maintained.
More than just looks, however, proper sanitation is crucial. A bathroom that is neat in appearance may not necessarily be clean. Without regular professional commercial restroom cleanings, your restrooms could be full of germs and bacteria, as well as diseases such as the flu, Strep, respiratory illnesses, Staph and more.
The old mop and bucket approach to cleaning isn't good enough when you're talking about a public or high-traffic space. Proper sanitation requires the right chemicals, the right procedures and special attention to areas where germs and diseases tend to collect. It requires periodic deep cleanings followed by daily touch-ups. Even if you hire a professional bathroom cleaning company to come in weekly, your staff should still follow a daily restroom cleaning checklist.
Video: Public Restroom Cleaning Process
This video shows an example of what you should expect of your cleaning company during a visit.
Additional Restroom Cleaning Prices
By the hour, billing rates for commercial bathroom cleaning and sanitation usually start at $50 to $60. There's a lot of variability in pricing, though, based on your geographic location, the frequency of cleanings and the condition of the restrooms. Keep in mind that small offices may face a minimum charge for the trip.
By the job, you can expect to pay anywhere from about $25 to $50 per restroom. Budget on the high end for large restrooms. Similarly, some companies charge by the fixture (sinks and toilets). If the price is $25 per month per fixture, that would bring the total bill to $100 a month for a bathroom with two sinks and two toilets.
As you can see, there are wide variations from one company to the next when it comes to rates and pricing structure. For that reason, it's important to compare multiple services before you commit and ask for prices upfront.
Small retail stores or offices: $100-200 per month for 1-2 cleanings per week. This could involve basic cleaning/disinfecting of toilets, sinks, floors, etc.
Midsize offices: $300-500 per month for daily or every-other-day cleanings. More toilets/stalls to service than a small business. May also include extra services like restocking supplies or sanitizing high-touch areas.
Restaurants: $400-800+ per month depending on size. Daily cleanings are a must for health codes. Additional deep cleanings or special services may cost more.
Large office buildings, hotels, etc: Could be $2,000+ per month for multiple daily cleanings, deep cleanings, using industrial equipment, servicing many floors/bathrooms, etc. Price varies based on square footage.
Stadiums/arenas: Tens of thousands per year. Very frequent cleanings needed for high traffic. More staff and equipment needed to cover large areas.
Hospitals: $30,000-$50,000+ per year. Critical sanitization required. Cleaning done 24/7 with multiple daily visits to all bathrooms. Strict protocols must be followed.
So in summary, prices can range widely based on the size and needs of the business. But comprehensive, frequent restroom cleaning services generally do not come cheap for companies. Maintaining proper hygiene and cleanliness is an investment they must make.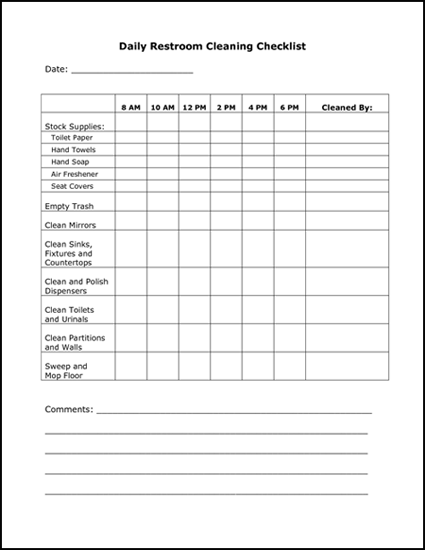 Finding the Right Commercial Bathroom Cleaner
You might not have any idea what separates one commercial cleaning and sanitation service from another, and that's OK. But there are steps you should take and questions you should ask to make sure the company is reputable:
Ask for referrals if you're not sure where to start. Talk to other companies about who they use and why. Before you hire a company, do some research on their background and reputation. Check the Better Business Bureau and, if you're a member, services like Angie's List.
Ask the company for a detailed description of their cleaning procedures. What kind of chemicals or germicides do they use? Does the cleaning staff have a commercial bathroom cleaning checklist they must complete during every visit? Does the cleaning involve only sanitation, or does it include paper refills and trash service?
Make sure the company is bonded and insured. Any reputable office restroom cleaning service should be. If you hire one that is not, your business could be liable for any accidents that occur during the cleaning.
Check to see if the company is certified by the Institute of Inspection, Cleaning and Restoration Certification.
Ask for a written contract that outlines - in detail - the scope of work, the frequency of visits and the agreed upon price. Check out this sample commercial cleaning contract.
What Tasks Do Bathroom Cleaning Services Offer?
Below is a list of potential tasks a restroom cleaning service will take on.
Toilet Cleaning:

Cleaning and disinfecting toilet bowls, seats, and handles.
Wiping down and sanitizing toilet paper holders.

Sink and Vanity Cleaning:

Cleaning and disinfecting sink basins, faucets, and counters.
Refilling soap dispensers and ensuring paper towel availability.

Surface Disinfection:

Wiping down and disinfecting all high-touch surfaces.
Disinfecting door handles, light switches, and stall latches.

Floor Cleaning:

Sweeping and mopping floors to remove debris and spills.
Addressing grout lines and tile surfaces for thorough cleaning.

Urinal Cleaning:

Cleaning and disinfecting urinals, flush handles, and dividers.
Ensuring proper drainage and flushing functionality.

Partition Cleaning:

Wiping down and sanitizing stall walls and doors.
Removing graffiti, dirt, and stains.

Mirror and Glass Cleaning:

Cleaning and polishing mirrors and glass surfaces.
Removing water spots and smudges.

Trash Removal:

Emptying and replacing trash can liners.
Proper disposal of waste materials.

Fixture Polishing:

Polishing metal fixtures like faucets and towel dispensers.

Air Freshening:

Using air fresheners to maintain a pleasant scent.
Ensuring restrooms smell clean and inviting.

Restocking Supplies:

Refilling soap dispensers, paper towel holders, and toilet paper dispensers.
Ensuring adequate supply levels.

Germ Control:

Using disinfectants to kill germs on surfaces.
Paying special attention to high-risk areas.

Tile and Grout Cleaning:

Cleaning and scrubbing tile surfaces and grout lines.
Removing stains and buildup.

Drain Cleaning:

Ensuring proper drainage in sinks and floor drains.
Removing blockages and debris.

Floor Drain Maintenance:

Cleaning and maintaining floor drains for proper functionality.

Ceiling and Vent Cleaning:

Dusting ceiling vents and light fixtures.
Ensuring ventilation systems are clean.

Deep Cleaning:

Periodic thorough cleaning of hard-to-reach areas and corners.
Addressing stubborn stains and buildup.

Stainless Steel Cleaning:

Cleaning and polishing stainless steel surfaces.
Ensuring a polished appearance.

Sanitizing Common Areas:

Sanitizing entryway touchpoints and common areas.
Promoting a hygienic environment.

Restroom Inspection:

Regular inspections for maintenance needs and issues.
Reporting any repair or maintenance requirements.
Author: Ashley Smith
Get Bids From Restroom Cleaners
Use our free request for quote tool and get price quotes from multiple commercial cleaners in your area. There are no obligations to hire and we won't ask for your credit card information.
References: