Church Cleaning is a Big Job: Cost to Outsource Your Church Cleaning Duties
Quick Summary: Church Cleaning Services Prices:
Commercial cleaning companies will charge between $25 and $75 per hour to clean a church. Or they will charge $0.05 and $0.20 per square foot. The rate will be on the higher end if the cleaning company provides the cleaning supplies.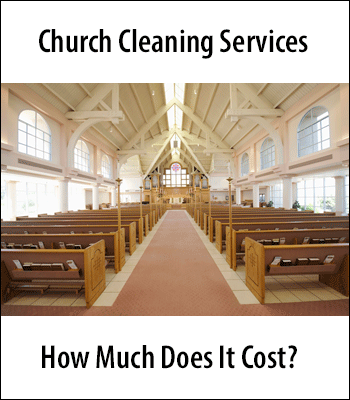 If you employ a team, whether paid or unpaid, to manage your church property, you may be considering whether to outsource your church's cleaning duties. This is especially true if you currently use in-house employees or volunteers to perform this service, and have experienced the inconvenience of cleaning crews being in sight during ministry, untimely bathroom closures for cleaning, or any of the other inconveniences that come with cleaning during "business" hours.
A commercial cleaner works afterhours, meaning your staff and parishioners find a sparkling clean campus upon arrival.
Table of Contents
Benefits of Outsourcing Church Cleaning
Thanks to the convenience and cost effectiveness of outsourcing cleaning services, it has rapidly grown in popularity.
An in-house cleaning staff comes with a variety of expenses. This includes:
Cleaning supplies
Cleaning equipment
Employee benefits (if you compensate your staff)
Workers' compensation
When you outsource, these costs are not your responsibility; they all belong to the cleaning company. You must also consider sick days and vacation time, neither of which concerns you if you hire a commercial cleaning company.
Another consideration is the effectiveness of professional cleaners. Not only are they trained in their work, but their employer outfits them with professional-grade cleaning supplies and equipment.
Outsourcing also lets your staff focus on those tasks you cannot outsource, making them more effective and efficient in performing their duties.
Requesting a Quote
Rates to hire a professional cleaning company vary widely, based on factors such as campus size, your cleaning needs, and even in what part of the country you're located.
The company you contact for a quote will likely tell you that they can't give an exact price without an in-person visit. However, if you can answer the five following questions, they should be able to provide a fairly accurate estimate:
How often do you want them to clean?
What is the square footage of your campus?
What is the age and condition of your building?
What kind of traffic does your campus receive?
Do you have any specific cleaning requests? Providing a cleaning checklist is helpful (Sample church cleaning checklist)
Certain tasks, often referred to as deep cleaning, increase the price. Bathrooms, in particular, fall under this category, especially if you want them mopped and disinfected daily.
Average Costs to Outsource Cleaning
As already stated, these costs vary widely, but we provide some ranges to give you an idea.
A small church requiring light cleaning probably will receive a flat rate of $30 to $40 per visit. In this instance, light cleaning refers to emptying trash, dusting, vacuuming, and sweeping. Adding duties such as bathroom cleaning raises the rate.
Charges for cleaning larger facilities - both in terms of size and amount of traffic - usually appear as either hourly or per square foot. Hourly rates range between $25 and $75 per hour. Square footage rates range between $0.05 and $0.20 per square foot.
In addition to their regular rates, cleaning companies often charge extra for non-standard tasks, such as cleaning carpets or polishing floors. Ask about these tasks when obtaining a quote.
10 Questions to Ask before Signing a Church Cleaning Contract
Negotiation time can feel daunting for many people. Remember: this is a professional transaction. It is important to know what you get out of the deal. To make it easier, consider asking the following questions:
Are your employees bonded?
Do I have any authority over your employees when they're on my property?
Do you expect the customer to provide any of the cleaning supplies?
Do you have a list of references?
How do you handle employee absences?
How do you screen and train your workers?
How long have you been in business?
Is there a cancellation clause in the contract in the event I am unhappy with your services?
Who opens the church for cleaning, and locks it after completion?
Will a supervisor monitor the cleaning crew?
Getting answers to these questions also helps you compare two or more commercial cleaning companies, and you definitely want to obtain quotes from multiple companies when determining whether to make the move from in-house cleaning.
Finding a Commercial Cleaning Company for Your Church
After you get the answers to your 10 questions, compare the costs of in-house cleaning to those of outsourced cleaning. Factor in items beyond salary, such as benefits, supplies, and equipment. Don't forget to also look at the quality of professional cleaning versus using your staff. Between improved quality and the full cost of an in-house team, you may decide outsourcing is the more logical option.
If you're ready to get started and receive your first estimate, request a free quote today.
Author: Ashley Smith
Get Bids From Church Cleaners
Use our free request for quote tool and get price quotes from multiple church cleaners in your area. There are no obligations to hire and we won't ask for your credit card information.