Why Hiring a Professional Kitchen Cleaner is a Necessity for Your Restaurant
Summary: Kitchen Cleaning Service Prices
Most commercial kitchen cleaning companies will charge between $50 to $150 per hour depending on the number of cleaners. A two person crew may cost $50 an hour while a 4 person crew may cost $100 per hour. On average expect to pay $20 to $30 per cleaner, per hour.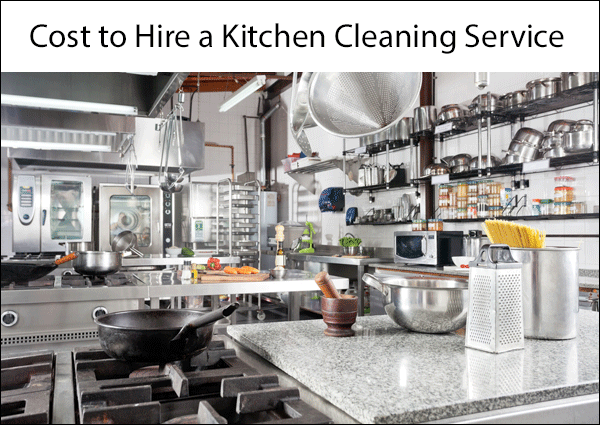 Table of Contents
In the restaurant industry, a clean and sanitary kitchen is non-negotiable. Dirty kitchens put your customers at risk of food-borne illness and present a major fire risk. And if your kitchen is not maintained in accordance with state and federal laws, your restaurant could be fined or shut down.
Hiring a professional kitchen cleaning service greatly reduces or eliminates those risks, keeping your customers and employees safe and your restaurant in operation. To boot, kitchen cleaning services are willing to work around your busy schedules, sending crews in overnight to avoid interfering with your hours of operation.
Professional Kitchen Cleaning Tasks
Most restaurants handle their own day-to-day kitchen cleaning. The kitchen staff washes the dishes, sweeps, mops and sanitizes all surfaces before the end of the shift. Heavy-duty cleaning tasks, on the other hand, are usually left to the professionals.
Professional kitchen cleaning companies offer a wide range of services, including:
Cleaning and removing grease from kitchen hoods and exhaust fans
Emptying grease traps
Replacing filters
Deep cleaning all ceilings, walls, floors and kitchen equipment
Sanitizing and disinfecting sinks and countertops
Refilling soap and chemical dispensers
Deep cleaning floor mats
Cleaning vents
Off all those tasks, cleaning the exhaust fans is the most important. Left dirty, exhaust fans present a serious fire hazard. Regular cleanings are not only important to your health and safety; they're required by the National Fire Protection Association and the Federal Food and Drug Administration.
You can hire a professional cleaning service to perform regular deep cleanings - perhaps on a quarterly or twice-yearly basis. Or, you can opt for specialized service in order to prepare for fire, insurance and health inspections. The service will perform a comprehensive cleaning and provide proof of that cleaning to satisfy state and federal laws.
Some services use pressure washers to clean and sanitize your kitchen. The method may seem unconventional, but it's popular because it works. The powerful blast of water is very effective at removing dirt, grease and grime in a short amount of time.
Cost of Professional Kitchen Cleaning Services
The cost of a professional kitchen cleaning depends on a number of factors, including the size of your kitchen, how clean or dirty it is, how long it has been since the last professional cleaning and which services you request.
Most kitchen cleaning services charge anywhere from $50 to $150 per hour, depending on the size of the crew. You might spend $50 per hour for a two-person cleaning crew, but the job will take longer than if you hire a four-person crew for $100 per hour. Generally, budget about $20 to $30 per crew member, per hour.
Be wary of any kitchen cleaning service that offers you a quote over the phone. Any reputable service will want to do a walk-through of the kitchen before giving you a price. Be sure to get a detailed quote before hiring any service, and get it in writing.
Author: Ashley Smith
Get Bids for Kitchen Cleaning Services Near You
Use our free request for quote tool and get price quotes from multiple restaurant cleaners in your area. There are no obligations to hire and we won't ask for your credit card information.