Daycare Cleaning Regulations: Child Care Cleaning Services
Summary: Daycare Cleaning Prices
Generally speaking, a daycare may require more cleaning than your average office space and the price will reflect that. A daycare cleaning company will charge anywhere from $400 to $1000 per month for the average-size facility, depending on how many playrooms or classrooms you have, their size and condition and the frequency of cleaning. Hourly rates average around $40 to $60 per hour, per cleaner.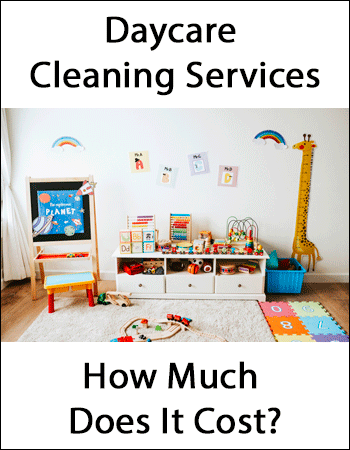 Table of Contents
Cleanliness is of tantamount importance for a daycare center. These facilities have specific regulations surrounding a variety of cleaning issues. Diaper changing stations, food prep areas, bathrooms, even the toys and educational activities have cleanliness standards.
In addition to ensuring the center meets these standards, it must also do so safely. This means not using chemicals dangerous to children, especially given the fact that small children frequently put things in their mouths that do not logically belong there. An inexperienced cleaning crew may inadvertently harm your children as well as your staff.
The Unique Challenges in Cleaning Daycare Centers
Babies and toddlers tend to put everything in their mouths. This is natural. When learning, children use all of their senses, including taste.
An additional challenge is the amount of time children spend on the floor of a daycare or preschool. Add this to their tendency to taste everything, and the weaker immune system of a child, and you see how quickly airborne illnesses can spread through a childcare center.
Keeping the environment sanitized presents a special challenge, since typical cleaning products are incompatible with this environment. This is one of the reasons many professional cleaning companies use "green" materials when cleaning childcare facilities.
Video: DIY Daycare Cleaning Tips
Watch the video below to get some great tips on do it yourself daycare cleaning maintenance.
Understanding Childcare Center Regulations
Unfortunately, regulations around childcare centers vary by state, meaning there are no set federal guidelines. Each state even has its own department name. For example, in California, the Department of Social Services regulates daycare facilities, while Arizonans turn to the Department of Health Services.
Luckily, there is a simple way to discover your own state's regulatory body. The Public Health Law Center offers its users an interactive map. Just click on your state to learn the laws in your area and find the links to your local government websites.
Benefits to Outsourcing Cleaning Services
Many daycares choose to outsource their cleaning. Compared to in-house cleaning, a commercial cleaner is often the cheaper alternative.
With a commercial cleaner, you do not have to supply the cleaning materials or the equipment. You do not need to worry about people calling in sick, or taking personal leave. A commercial crew has the proper training to ensure your daycare center meets state regulations, and the professional equipment to do so efficiently. When you use your in-house staff to complete cleaning, you have the inconvenience of cleaning occurring during business hours, or else paying overtime for the employees performing these tasks. You also must pay the salary and benefits of these employees, plus purchase the equipment and cleaning supplies.
Finding a Commercial Cleaner
If you would like to learn more about hiring a commercial cleaning service, request a free quote today. To receive an accurate estimate, first answer the following questions:
Do you have any specific cleaning requests?
How large (in square feet) is your facility?
How many days a week do you need them to clean?
How many employees and children, on average, does your facility house every day?
What is the age and condition of your facility?
Compare quotes from at least three companies. Then, compare those costs to the costs of continuing to maintain your facility with in-house staff. Finally, do not sign a contract without a cancellation clause; this protects you in the event you are unsatisfied with their services.
Author: Ashley Smith
Get Bids From Daycare Cleaners
Use our free request for quote tool and get price quotes from multiple daycare cleaners in your area. There are no obligations to hire and we won't ask for your credit card information.