Congratulations to the following list of restaurant/commercial cleaning companies that made our Top 50 Award designation.
Made The List?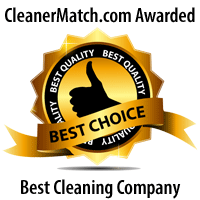 If you own a restaurant, you'll definitely want to consider hiring one of the cleaning companies listed below. These are high quality small businesses that are family owned and operated. As you know there is no shortage of national franchised cleaning businesses out there so we decided to find and feature the very best locally owned non-franchised commercial cleaning companies. Anyone can buy a reputation. These are the companies that built their fabulous reputations.
As a restaurant owner or manager, you understand that cleanliness is key. Customers won't come back to a dirty restaurant. And if you're not maintaining a high standard of clean, you're putting your patrons at risk of food-borne illness, which can lead to health code violations or even the closure of your restaurant. These cleaning companies have the experience to keep your restaurant in top shape.
Here are the winners listed by state.

Alabama - Baza Services LLC
Baza boasts over 15 years in the cleaning business with over 25 years of combined cleaning experience on their team. They stand out from the competition with their "Green Clean Promise" to use environmentally safe, green cleaning products & methods.
Phone: (205) 224-9164
Address: 1919 Oxmoor Rd St 232
Birmingham, AL 35209
Like them @BazaServicesLLC on Facebook

Alaska - JANCO
JANCO was started by Jhovy Mejia in the early 90's and has become a leader in the commercial cleaning industry. The company impressed us with their dedication to their employees & their community by donating their time, funds, & resources to charities.
Phone: (907) 243-4108
Address: 4900 Homer Dr
Anchorage, AK 99503
Like them @JancoAK on Facebook

Arizona - Desert Oasis
Desert Oasis takes pride in their family owned foundation starting back in 2003. They have remained un-franchised while still capable of taking on large jobs. We were pleased with their "Mom and Pop" approach to cleaning.
Phone: (480) 720-0907
Address: 4600 E. Washington Suite 300
Phoenix, AZ 85034
Like them @Desert-Oasis-Commercial-Cleaners on Facebook

Arkansas - OJ's Commercial Cleaning
OJ's Commercial Cleaning made the list due to their 20 years experience, excellent reviews and references and the fact that they have a 24/7 manager on call as well as emergency crews and an after-hours message center.
Phone: (501) 404-5062
Address: 301 North Broadway
North Little Rock, AR 72114
Like them @OJs-Commercial-Cleaning on Facebook

California - Super Clean 360
Super Clean 360 has many reasons to be recognized. They have an A+ rating with the Better Business Bureau. They offer a price match guarantee when you show them a current cleaning estimate. And most importantly, they have partnered with Cleaning For a Reason, an organization that has helped over 17k women who are battling cancer.
Phone: (510) 431-9051
Address: 1191 Solano Ave Unit 6621
Albany, CA 94706
Like them @Super-Clean-360 on Facebook

Colorado - Spotless Shine Cleaning
Spotless Shine Cleaning deserves to be on our list because of their commitment to providing high quality cleaning at an affordable price. Owner Angel Jones will tailor her cleaning service to fit the needs of any budget. She also offers a 20% discount to senior citizens, active military, first responder & teachers!
Phone: (719) 822-2013
Address: Colorado Springs
CO. 80915
Like them @CleaningSeri on Facebook

Connecticut - JC General Cleaning Services LLC
JC General Cleaning definitely deserves recognition for their impressive before and after photos of restaurant kitchen deep cleaning jobs they completed. They also offer some very generous cleaning service coupons and specials on their website.
Phone: (203) 204-3060
Address: 32 Davis St Ste 32 Fl 1
Danbury, CT 06810
Like them @JC-General-Cleaning-Services-LLC on Facebook

Delaware - Spartan Cleaning
Spartan Cleaning made the list simply because they have generated very positive reviews from their customers. They have a reputation for being very professional and having excellent customer service.
Phone: (302) 345-7591
Address: Middletown, DE
Email them @ [email protected]

Florida - Ultimate Cleaning Solution
With over 50 years of combined cleaning experience, Ultimate Cleaning Solution deserves a spot on our winners list. To ensure quality, all employees go through an extensive training program. The company also makes use of technology with computerized time-tracking.
Phone: (352) 213-8518
Address: Gainesville, FL
Like them @theultimatecleaningsolution on Facebook

Georgia - Cleanstar
The founder and CEO of Cleanstar National, Jacob L. Amedee, started his cleaning career back in 1992. He grew his business to service over 200 buildings and employ over 350 people. That's what we call success!
Phone: (770) 425-6797
Address: 1690 Enterprise Way,
Marietta, GA 30067
Like them @cleanstarnational on Facebook

Hawaii - ITS Clean
ITS Clean is as professional as it gets when it comes to restaurant cleaning. They will work with your head chef and front of the house staff to put together a custom cleaning program to keep your restaurant in like-new shape. They have a very long list of happy clients!
Phone: (808) 594-8385
Address: PO Box 63032
Ewa Beach, Hawaii 96706
Like them @itscleanhawaii on Facebook

Idaho - All American Cleaning
This company is the very best at getting your restaurant back in shape after fire or water damage. They are available 24/7 and in many cases can keep your restaurant from suffering secondary damages. This company must be on your contact list if you own a restaurant in Southeast Idaho.
Phone: (866) 707-8006
Address: 3810 N. Yellowstone Hwy.
Idaho Falls, Idaho 83401
Like them @allamericancleanandrestoration on Facebook

Illinois - Andy's Restaurant Cleaning
Andy's Restaurant Cleaning has some of the best online reviews we have seen. They also have quite a few positive reference letters posted on their website that helped them grab a spot on our winners list.
Phone: (312) 504-4381
Address: 250 W Parliament Place #408
Mount Prospect, IL 60056
Email them @ [email protected]
Indiana - Xcel Clean
Xcel Clean impressed us with their exclusive deep cleaning service that uses special techniques, tools and chemicals to achieve the deepest clean possible. They also promise a 100% satisfaction guarantee.
Address: Indianapolis, IN
Call them @ (317) 576-9235

Iowa - All Seasons Cleaning
All Seasons Cleaning stood out over the competition due to the high praise they received online from their employees. They were happy with the flexible work hours and optional overtime work available. In addition to a good reputation, if you treat your employees right, you deserve a spot on our list.
Phone: (319) 261-2288
Address: 710 32nd Ave
Cedar Rapids, Iowa 52404
Like them @AllSeasonsCleaningCR on Facebook

Kansas - Clean Tech
Clean Tech is a 2nd generation family owned company operated by Austin and Anni Brumley. They understand that every business is different so they create a custom plan for each facilty they clean. We were also impressed with their fundraising relationship with AutismSpeaks.org
Phone: (316) 729-8100
Address: 7453 W 33rd St
Wichita, Kansas 67205
Like them @Clean-Tech-Inc on Facebook

Kentucky - Integrity Cleaning
Just like their name implies, Integrity Cleaning made our winners list because of their committment to Green Living. Owner Eric Hart sums it up perfectly: "I believe in fair pay, being environmentally conscious, and doing what we say we are going to do. It's simple. That is how I do business."
Phone: (859) 475-3676
Address: 426 Oldham Ave, Lexington, Kentucky 40502
Like them @Integrity-Commercial-Cleaning on Facebook

Louisiana - Pinnacle
Pinnacle has more cleaning experience than any other company on our list, over 75 years. They use the environmentaly friendly H2Orange2 Cleaning System for 95% of their cleaning.
Phone: (337) 714-8603
Address:321 Travis Street, Suite 8B
Lafayette, Louisiana 70503
Like them @PinnacleFacilityServices on Facebook

Maine - Chick's Cleaning
Chick's Cleaning earned their spot on our list due to their reputation for providing reliable and affordable cleaning services. They also focus on eco-friendly, green cleaning solutions using Enviro Solutions as their cleaning product supplier.
Phone: (207) 772-2104
Address: 887 Brighton Ave
Portland, Maine 04102
Email them @ [email protected]

Maryland - Kent Clean
Kent Clean specializes in floor cleaning for restaurants. All of their cleaning technicians are certified through I.I.C.R.C. The Institute for Inspection, Cleaning, & Restoration Certification. Their website boasts some fabulous reviews.
Phone: (410) 552-6501
Address: 1238 Seron Ct
Eldersburg, Maryland 21784
Like them @Kent-Clean on Facebook

Massachusetts - LRM Cleaning
LRM Cleaning made the list due to their committment to client satisfaction. If you are not happy with your cleaning job (for any reason) they will do it again, no questions asked. Owner Luis Martinez has 20 years experience in the cleaning business.
Phone: (857) 776-6113
Address: 22 Willow Street
Chelsea MA, 02150
Email them @ [email protected]

Michigan - Feldpausch Cleaning
Feldpausch Cleaning has experts who specialize in kitchen hood cleaning. Before starting your cleaning their technicians will inspect your filters, exhaust fan and ductwork free of charge. They provide before and after photos of the job completed as well as a follow-up report.
Phone: (517) 582-1083
Address: 1322 Rensen St, Lansing, Michigan 48910
Like them @FeldpauschCleaning on Facebook

Minnesota - True Building Maintenance
True Building Maintenance impressed us with their high level of service and professionalism. They are fully bonded and insured and their employees undergo extensive background checks and intensive training.
Phone: (952) 886-3000
Address: 8312 Pillsbury Ave
Bloomington, Minnesota 55420
Like them @TrueBuildingMaintenance on Facebook
Mississippi - B & B Janitorial Service
B & B Janitorial Service earned a spot on our winners list due to their impressive online reviews. They maintain 5 out of 5 stars. Along with their very affordable rates, they also offer free advice, estimates, and consultations.
Address: Tupelo, MS 38801
Call them @ (662) 223-3094

Missouri - Complete Power Washing Services
Complete Power Washing is owned by Frank Puglisi who received high praise in many online reviews for his professionalism. Restaurant cleaning is a specialty of Complete Power Washing who have one mission in mind: 100% Customer Satisfaction!
Phone: (314) 441-0496
Address: 10224 Baltimore Ave
St. Ann, MO 63074
Email them @ [email protected]

Montana - Maid To Clean
Maid to Clean has quickly grown to be the area's most sought after cleaners. They recently added commercial cleaning to their services including restaurant and bar cleaning. They are currently offering 10% off your first cleaning!
Phone: (406) 209-2109
Address: 90 W. Penwell Ave
Belgrade, Montana 59714
Like them @maidtocleanmontana on Facebook

Nebraska - LNK Cleaning Company
LNK Cleaning maintains a strong 4.6 out of 5 stars online. They have been rated the #1 commercial residential house cleaning services in Lincoln Nebraska since 2004. We decided to agree and add them to our winners list.
Phone: (402) 881-3135
Address: Lincoln, NE
Like them @lnklincoln on Facebook

Nevada - Las Vegas Hood Cleaning
Las Vegas Hood Cleaning sets itself apart from it's competition because they go beyond just cleaning the hood. They inspect and clean the entire system including ductwork and the exhaust fan. They are striving to be the biggest (and best!) hood cleaning company in Las Vegas.
Phone: (702) 978-8130
Address: 3065 N Rancho Dr
Las Vegas, Nevada 89130
Like them @Las-Vegas-Hood-Cleaning on Facebook

New Hampshire - Titan Cleaning Services
Titan Cleaning is owned by Jason Parent who offers a personal guarantee for each cleaning job. This is the quote that earned Parent a spot on our winners list: "The last thing I would ever want to do is explain to my family that I'm going out of business for not putting in 110% of myself every day."
Phone: (603) 785-6741
Address: 14 Everett St
Manchester, New Hampshire 03104
Like them @TITANcleaningnh on Facebook

New Jersey - Hortensia Cleaning
Hortensia Cleaning uses products that are free from harmful toxic chemicals and are 100% bio degradable. They will attempt to beat any other competition's price. They are A+ rated through the Better Business Bureau.
Phone: (732) 881-9998
Address: 560 Lincoln ave
Middlesex, New Jersey 08846
Like them @hortensiacleaningservice on Facebook

New Mexico - Green Sweep
Green Sweep was an easy pick for our winners list. We were very impressed with the values that owner Molly Moran applies to her cleaning business: Pay employees fairly, use eco-friendly cleaning methods and give back to your community.
Phone: (505) 414-7887
Address: 601 Mountain Rd
Albuquerque, New Mexico 87102
Like them @greensweepNM on Facebook

New York - SanMar Building Services, LLC
SanMar Building Services has a reputation for being the most trusted restaurant cleaning company in their area. They will clean around your schedule (mornings, evenings, weekends or overnight) so that your restaurant is spotless during business hours.
Phone: (212) 334-9884
Address:134 West 29th Street, Suite 704,
New York, NY, 10001
Email them @ [email protected]

North Carolina - Deep Cleaning Services
Deep Cleaning of NC maintains a 4.9 out of 5 stars for their high quality commercial kitchen equipment cleaning. We were impressed with the high praise they received from their reviewers.
Phone: (919) 307-6611
Address: 2474 Walnut St
Cary, NC 27518
Like them @Kitchen.Cleaning.Raleigh.NC on Facebook

North Dakota - TLC Cleaning
TLC Cleaning has earned 98% customer satisfaction from over 3,000 reviewers and a spot on our winners list. We were also impressed with the story of founder Trisha Lake who started the company on her own as a single mother and grew it to 35 employees who she offers health insurance, company vehicles, paid holidays & paid vacations.
Phone: (302) 345-7591
Address: 15 15th Street
South Fargo, ND 58103
Email them @ [email protected]

Ohio - Greenstar Hood Cleaning
Greenstar's before and after kitchen cleaning photos speak for themselves. The company will handle entire commercial kitchen deep cleaning to individual pieces of equipment and keep your business compliant.

Phone: (330) 605-4200
Address: 10346 Newbury Ave
Uniontown, Ohio 44685
Like them @greenstarhoodcleaningservices on Facebook

Oklahoma - O'Malley
O'Malley Hood Vent Cleaning Services provides hoodvent cleaning, restaurant cleaning, and grease removal services. They have maintained 5 star google reviews. They have a reputation for getting a job done right.
Phone: (405) 677-0939
Address: 4633 SE 23rd St
Del City, Oklahoma 73115
Like them @OMalley-Hoodvent-Cleaning-Services on Facebook

Oregon - Brothers Cleaning
Brothers Cleaning was founded by Bob Kramer and Tony Metcalf in 1973 and has since grown to be the largest company of it's kind in the Springfield area. On top of making our list, Brothers has a long list of awards including Readers Choice Reward for 10 years in a row & Angie's List Super Service Award.
Phone: (541) 485-4567
Address: 582 Shelley St
Springfield, Oregon 97477
Like them @brotherscleaningoregon on Facebook

Pennsylvania - Penn Jersey
Penn Jersey made our list because we were impressed by their commitment to their community and to improving the lives of their local residents. They also do their part for the future by using nature and safe alternatives to hazardous chemical cleaners.
Phone: (215) 382-1105
Address: 3917 Baring St
Philadelphia, Pennsylvania 19104
Like them @pennjerseybuildingservices on Facebook

Rhode Island - Romans Cleaning
Romans Cleaning has a reputation for providing extremely high quality cleaning services due to their extensive employee training. All staff education and training is updated on a regular basis.
Address: 29 Tiogue Avenue
West Warwick, RI 02893
Call them @ (401) 822-0354

South Carolina - Xtreem Cleaners
Xtreem Cleaners is Charleston's fastest growing commercial cleaning companies. With the experienced managers and trained staff they can handle any size commercial cleaning project. From Office Cleaning to Construction Cleaning Services, Xtreem Cleaners is the company to call in Charleston
Phone: (800) 667-1730
Address: 1643B Savannah Highway #269
Charleston, South Carolina 29407
Like them @xtreemcleaners on Facebook

South Dakota - Busy Bee Cleaning
Busy Bee Cleaning impressed us with their photos on their website of an absolutely spotless kitchen deep cleaning. They also are fully insured with Comprehensive General Liability, Workers' Compensation, Property Damage & Bonding.
Phone: (605) 553-3176
Address: 2425 E. Saint Charles St., Unit B,
Rapid City, SD
Like them @busybeecleaningserviceSD on Facebook

Tennessee - 365 Days Cleaning
365 Days Cleaning made our list due to their high praise from some of the best Nashville restaurants for their restaurant cleaning service. Owners Daniel and Sergio offer a friendly, professional and personalized cleaning service.
Phone: (615) 988-1291
Address: Nashville, TN
Email them @ [email protected]

Texas - Halo Restoration Service
HRS was founded in 2010 by owner and president James Epperson. The company specializes in kitchen and restaurant cleaning and uses the most cutting edge technology for cleaning. They maintain 4.8 out of 5 stars.
Phone: (214) 838-2200
Address: 2750 Northaven Rd, Ste 310
Dallas, TX 75229
Email them @ [email protected]

Utah - CleanMenders
This amazing company will do an initial deep cleaning at no charge and with no contract! They have some impressive video reviews posted on their website that helped them to make our awards list.
Phone: (801) 978-9354
Address: 239 E 800
Salt Lake City, Utah 84111
Like them @CleanmendersInternational on Facebook

Vermont - Keep It Clean
Keep It Clean specializes in commercial kitchen cleaning including appliances and exhaust systems. They are fully insured and owner Michael Hull takes pride in ensuring a job well done by being on site for most jobs.
Phone: (802) 225-6243
Address: Berlin, VT
Email them @ [email protected]

Virginia - Smart Choice Cleaning
Smart Choice Cleaning was started in 2004 by owner John Alzubi and has grown to employ over 25 employees. They made the list due to John's focus on customer satisfaction and their mission: "To provide the most outstanding customer experience ever!"
Phone: (703) 455-1440
Address: 7631 Fullerton Road, Unit E
Springfield, VA 22153
Like them @smartchoicecleaninginc on Facebook

Washington - A & R Kitchen Cleaning
A & R Hoods was started by veteran Steve Russell in 1985 after completing his service in the US Air Force. The company strictly adheres to National Fire Protection Association cleaning standards. They are available 24/7 and are fully licensed, insured and bonded.
Phone:(253) 777-3880
Address: PO Box 45312
Tacoma, WA 98448
Like them @aandrhoods on Facebook

West Virginia - OCCWV
OCCWV was started by Matt Coleman and his wife Robbie in 1993. Together they have grown the company to a multimillion-dollar operation with over 100 employees servicing over 100 clients throughout West Virginia.
Phone: (304) 768-6309
Address: 117 1st Avenue
South Charleston, WV 25303
Email them @ [email protected]

Wisconsin - Jack's Maintenance Service
JMS started as a one man cleaning company in 1952 by Jack Schmitzer and has now grown to over 400 employees. Jack's daughter, Lauri Struck, now runs the company with these core values: Quality, Customer Service, Safety, Honesty, Growth and Timeliness.
Phone: (920) 722-5136
Address:730 Kuehn Court
Neenah, WI 54956
Like them @JacksMaintenanceService on Facebook

Wyoming - ABF Cleaning
ABF Cleaning offers 10% off your first cleaning service. They offer flexible, one time cleaning services or reaccuring cleaning. They are locally owned, insured and bonded, and guarantee very detailed service every time.
Phone: (307) 734-9414
Address: 1410 Gregory Ln Unit D
Jackson, WY 83001
Like them @ABFProfessionalCleaningg on Facebook
Cost of Restaurant Cleaning Services
Professional restaurant cleaning comes at a cost, but it might not be an extra cost if you're currently paying staff members to do the cleaning.
Standard cleaning services such as vacuuming, dusting and cleaning the bathroom usually runs $.05 to $.20 per square foot or $20 to $50 per hour. You can opt for the service daily, weekly or monthly, depending on your needs.
Kitchen cleaning is more expensive because it is more difficult and involved. Heavy-duty cleaning runs as much as $50 to $150 per hour, depending on the level of cleaning that is required, but you probably only need this type of cleaning a few times per year.
Professional carpet cleaning costs about $.05 to $.25 per square foot.
Stripping and waxing tile or hardwood floors runs about $.20 to $.30 per square foot.
Made Our List? Get Your Badge Code Here
Congratulations! Feel free to embed our badge on your website to show your customers that you are a winner! If you would like a different size, please contact us and we will gladly resize the badge to fit your needs.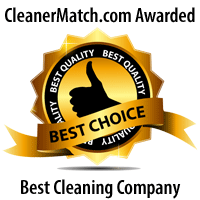 Code for 200px x 200px Badge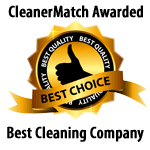 Code for 150px x 150px Badge

Code for 100px x 100px Badge
Get Bids From Restaurant Cleaners
Use our free request for quote tool and get price quotes from multiple restaurant cleaners in your area. There are no obligations to hire and we won't ask for your credit card information.